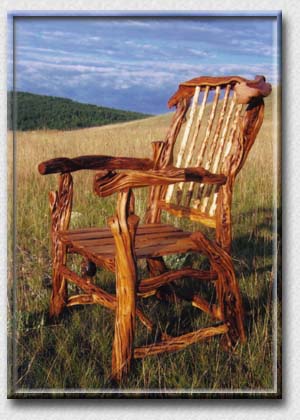 Inspired by Nature, Spirit of the West Log Furniture is Earth friendly art. Only choice dead wood is cut & gathered from forests & deserts. Natural - sourced finishes (linseed oil, pine tar, bees wax, varnish, shellac) respect our environment. Old-fashioned, hand rubbed finishing gives a natural already antique look.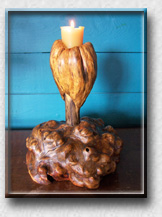 Spirit of the West Log Furniture is designed for comfort, style & strength. I celebrate & honour nature with each piece and am thankful for the materials I am offered. No nails or screws are used. Every piece is painstakingly assembled with glued mortise & tenon joinery, then enhanced by a hardwood dowel through each joint.
Various special woods of BC are used, including Diamond Willow, Juniper and Black
Sage. Birch, Alder, Spruce, Douglas Fir, Bug Kill Pine and Burls are also incorporated to create refined rustic furniture.
Most of the images shown on this website are of pieces already sold. However, similar pieces can be crafted or new designs created to suit your personal taste. Custom orders are most welcome. Prices range depending on type of wood used and complexity of design.
Check for Spirit Of The West Log Furniture at Gallery Mallet
in Historic Clinton - British Columbia.
---
For more information:

Telephone: (250) 791-5793
E-mail:
west@sw-furniture.com

or write:
Spirit of the West
Box 238, 108 Ranch, BC
Canada, V0K 2Z0


---
Located in the Cariboo at 111 Mile.
---